Recipe: Delicious Chana daal and peas pilau
Chana daal and peas pilau. Chana daal and peas pilau Rekha Bapodra Wellingborough, England. Chana daal and peas pilau is something that I have loved my whole life. To get started with this recipe, we must first prepare a few ingredients.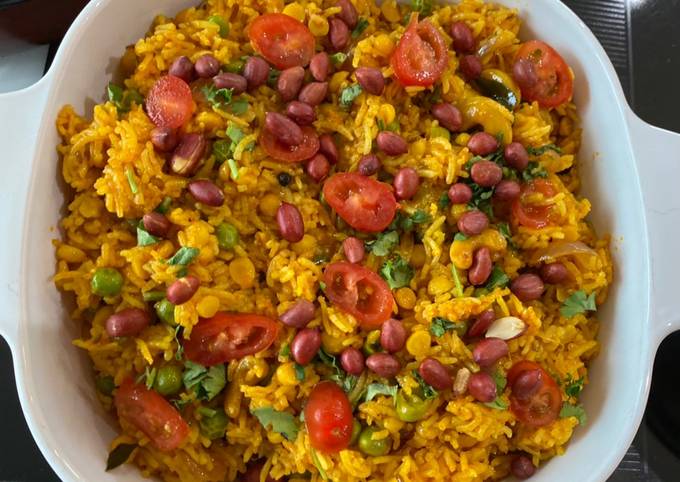 This combo of Jeera peas pulav and dhaba style chana daal tadka is heavenly. Creaminess of the daal and aroma is awesome. It's rich and finger licking good.. You can have Chana daal and peas pilau using 21 ingredients and 5 steps. Here is how you achieve it.
Ingredients of Chana daal and peas pilau
You need 1 cup of rice.
Prepare 1/2 cup of split chick peas (chana daal).
It's 1 cup of peas.
You need 1 of onion sliced.
Prepare 1/4 cup of cashews.
Prepare 2 tablespoon of ghee.
You need 2 tablespoon of oil.
Prepare 1 teaspoon of garlic paste.
It's 1 teaspoon of ginger paste.
Prepare 1 teaspoon of chilli paste.
Prepare 2 of curry leaves.
Prepare 2 of bay leaves.
You need 1 of dried chilli.
It's 1 of star anise.
Prepare 6 of whole black pepper.
It's 1 teaspoon of cumin.
It's 3 of cloves.
Prepare 1/2 teaspoon of pau bhaji masala.
You need 1/2 teaspoon of turmeric.
Prepare 1/2 teaspoon of chilli powder.
Prepare of Salt to taste.
Chana Pilau to me has always been one of those rice dishes that is delicious on it's own and also goes with anything. Serve it alongside any curry, any chutney or even on it's own with a simple salad, it does so well! I think it goes particularly well with Chicken Bhuna, Aloo Tikki and Aloo Gosht, but there's not limit to what you can serve it with! Also, a good raita on the side will do.
Chana daal and peas pilau step by step
Soak the split chick peas in hot water for an hour. Wash rice thoroughly and soak for minimum of 30 minutes.
On medium heat, in a pan add ghee and oil and add cumin, black pepper, bay leaves, curry leaves, star anise, red dry chilli, cloves and cashews. Sauté until the cashews are light golden. Add in onion, ginger and garlic and sauté for couple of minutes..
Add in the peas and split chick peas. Add in turmeric, pau bhaji masala, chilli powder and salt. Stir and let it cook for further minute. Remove water from rice and add. Stir and mix thoroughly. Add in 2 1/2 cups of water and 1/2 lemon juice. Cover and cook on low heat for 10 minutes or until cooked..
Once cooked remove the cover and let it stand for 5 minutes. Transfer in serving bowl. Garnish with roasted peanuts, coriander and baby tomatoes or to your desire. Enjoy!.
.
Drain the rice, then add it to the onions and spices, stirring to coat the grains with oil. Cover the rice with stock and bring to a simmer. Wash the rice in several changes of water until it runs clear. Chana pulao recipe with step by step photos. See recipes for Chana daal and peas pilau too.