How to Make Delicious Malaysian Chicken Curry
Malaysian Chicken Curry. Check Out Malaysian Curry On eBay. Lightweight Camping Equipment - Meals, Stoves and Cookware. Season the chicken pieces with salt and pepper.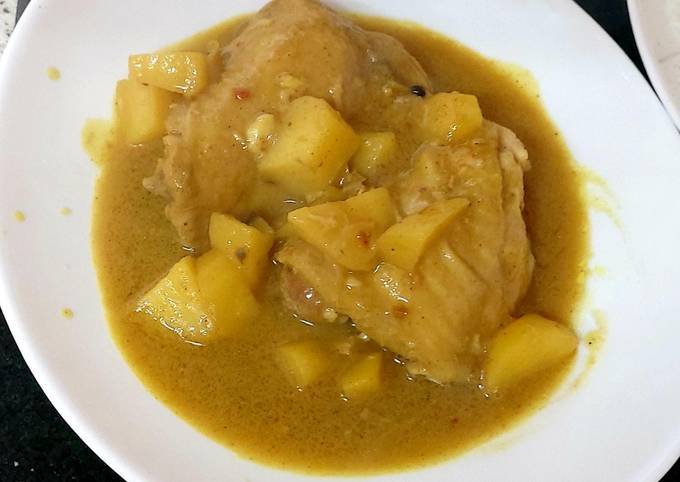 Heat oil in a large, deep frying pan over medium heat. Season the chicken pieces with salt and pepper and add to the pan, stirring to coat in the paste. Add the lime leaves, cinnamon stick, star anise, coconut milk, stock, sugar, soy and fish sauces and bring to the boil. You can have Malaysian Chicken Curry using 16 ingredients and 6 steps. Here is how you achieve it.
Ingredients of Malaysian Chicken Curry
You need 6 of Chicken thighs bone in and skin on.
Prepare 3 of small potatoes chopped.
It's 4 Cloves of Garlic.
You need 1 tbls of Grated Ginger.
Prepare 4 of Lime leaves.
It's 2 of Shallots chopped.
It's 1/2 Cup of chicken stock.
Prepare 1 of +1/2 cups Coconut milk.
You need 1 of thai birds eye chilli.
It's 1 tbls of fish sauce.
You need 2 tsp of Brown sugar.
Prepare 1 of cinnamon stick.
It's 2 tbls of Curry Powder.
You need 1/2 tsp of red pepper flakes.
It's 2 of Star anise.
Prepare 1/2 tsp of turmeric ground.
Reduce the heat to a simmer and cook gently for half an hour to an hour until the chicken is tender. However, this Malaysian chicken curry recipe is very easy chicken curry that you can make with easy-to-find ingredients. For curry powder, I always buy the curry powder packets from Malaysia, brands such as Baba's meat curry powder or Alagappa curry powder (made in Penang). They are fantastic, cheap and you can use them for a long time.
Malaysian Chicken Curry step by step
Ingredients.
Crush lemon grass, garlic, ginger,and thai chilli in a petal and mortor, until it looks like a paste.
Next stir in curry powder, turmeric and red pepper flakes and 2 tbls veg oil stir in and then coat the chicken thighs all over with it. And leave to marinate for 30 minutes..
In a large Dutch oven pan with lid add 2 tbls veg oil heat up then add the chicken thighs in skin down leave to cook until browned. Then turn them over skin up and add sliced potatoes and cook for another 5 minutes..
Next add chicken stock, coconut milk, star anise and cinnamon stick stir to mix. Leave on low for an hour or add to the oven 160°C for 45 minutes until chicken is tender..
Season with Brown sugar and fish sauce sprinkled over and serve with Boiled Basmati Rice..
Pour in the stock, add the mango chutney and bring to the boil. Boil for a couple of minutes to reduce the liquid slightly, then add the cream and curry leaves and season with salt and pepper. How to make Malaysian Chicken Curry - Delicious Nyonya Chicken Curry- Recipe at a glance: Prepare the spice paste with fresh ingredients and spice. Cook the spice paste in oil till fragrant. Add coconut cream, chicken, and whole spice.