Recipe: Tasty Vegan Thai Green Curry
Vegan Thai Green Curry. Made to a traditional family recipe. This vegan Thai green curry is quick and easy to make, and packed with flavour and fragrance to give you a real taste of Thailand. Heat the oil in a large flameproof casserole dish with a tight-fitting lid.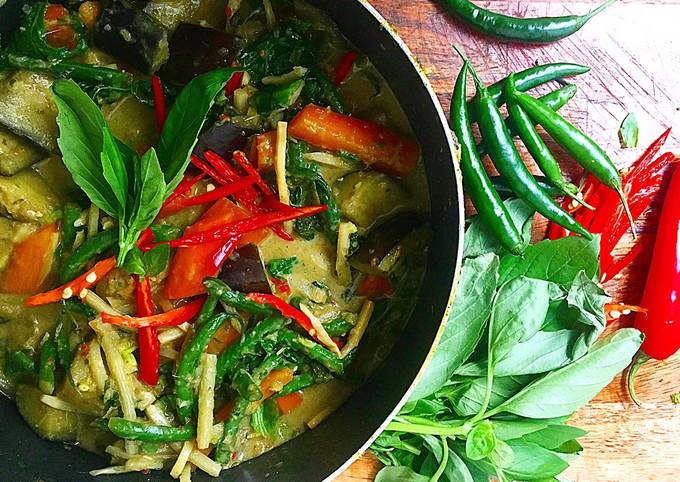 Season with tamari (soy sauce or vegan fish sauce), lime juice and a touch of sugar (if needed). This vegan Thai green curry is rich, creamy and full of bold flavours with a kick of heat. It's a hearty, comforting vegan meal that's full of vegetables like Creamer potatoes, zucchini, baby eggplant, red bell pepper and spinach. You can have Vegan Thai Green Curry using 10 ingredients and 5 steps. Here is how you achieve it.
Ingredients of Vegan Thai Green Curry
You need 2 of Carrots.
Prepare 1 of Aubergine.
You need 50 g of Green Beans.
Prepare 1-2 tbsp of Thai Green Curry Paste.
You need 2-3 of Soy Sauce.
You need 1-2 tbsp of Brown Sugar.
You need 1-2 Handfuls of Basil Leaves.
You need 1/2 Tin of Bamboo Shoots.
You need 1-2 of Big Red Chillis.
Prepare 400 ml of Coconut Milk.
Serve this Thai green curry with rice and fried tofu (or added chickpeas!) for a satiating plant-based meal. INSTANT POT VEGAN THAI GREEN CURRY Press Sauté on your Instant Pot. Once it displays, add oil and onions, ginger & garlic. This vegan Thai green curry paste is a fantastic thing to have in the freezer.
Vegan Thai Green Curry instructions
Cut up the vegetables into bitesize chunks..
Heat 1-2 tablespoons of the coconut milk in a saucepan on a medium heat until it starts to froth. Add the curry paste and fry for about a minute..
Add 2 more tablespoons of the coconut milk and the soy sauce. Add the sugar and stir until it dissolves. Add the hard vegetables (so the aubergine and carrots) to the pan. Add some more of the coconut milk and simmer for about 10 minutes..
Add the rest of the coconut milk, the rest of the vegetables (and bamboo shoots) and some water, use the coconut milk tin as a measure, fill the can up halfway and add that to the green curry. Simmer for a further 5 minutes..
Just before taking it off the heat add the basil leaves. Finely slice the red chilli and add to the dish. Serve over some jasmine rice and enjoy!.
I make a large batch and freeze two-person portions in little pieces of cling film. With this storage technique making it so easy, beautifully. Add chopped onion, crushed garlic, minced ginger, sesame oil and green curry paste into a pot and sauté until the onions are softened. Add coconut milk, baby corn, broccoli, zucchini, red bell pepper and red chili peppers. Simmer until the veggies are softened but still firm.