Easiest Way to Make Yummy My leftovers roast chicken curry
My leftovers roast chicken curry. Low Prices on Adventure Food Chicken Curry. Free UK Delivery on Eligible Orders Find Your Favorite Movies & Shows On Demand. Heat the oil in a heavy-bottomed saucepan over a medium heat.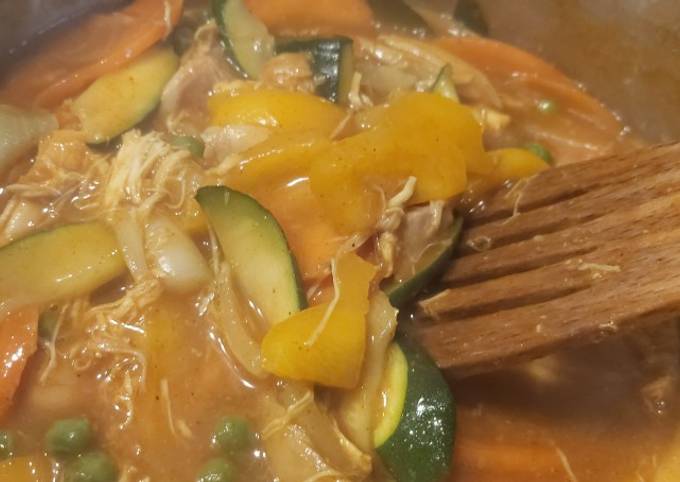 Cook Mode Prevent your screen from going dark Course Curry, Main Course Chop the onion and fry for a few minutes. Add the turmeric, curry powder, and flour along with the chicken, and then stir until the meat is well coated. Cook for a further two minutes or so, to cook out the taste of the flour and bring out the aroma of the spices. You can have My leftovers roast chicken curry using 9 ingredients and 5 steps. Here is how you achieve that.
Ingredients of My leftovers roast chicken curry
You need 1 of chicken breast,2 legs shredded.
Prepare 1 cup of curry powder.
You need 1 1/2 cups of cold water.
It's 1 of onion sliced.
It's 1 of pepper chopped.
You need 1 of courgette sliced.
You need 1 of carrots sliced.
It's 1/2 cup of frozen peas.
It's of Boiled rice to serve.
Stir in the tomatoes and mix well, scraping up any bits that may be stuck on the bottom of the pan. Add the stock and bring to the boil. Add the roast chicken and warm through until you have the desired consistency of sauce. Greg's Monday Night Leftover Roast Chicken Curry Easy and quick way to use up your Sunday roast, not too spicy, just warm and comforting.
My leftovers roast chicken curry instructions
Mix curry powder with water.
Shred the chicken add to pot.
Chop veg add to the pot.
Bring to a boil then simmer for 15mins.
Serve with boiled rice and enjoy.
Ingredients; Method; Hints & Tips; Method. Line a baking tray with baking parchment. Place the chicken skin in a single layer, skin-side up, on the baking tray. Dark soy, ginger and honey give this chicken noodle soup a fragrant Chinese flavour and pieces of leftover roast chicken are optional (the stock should be potent enough that you don't need it). You made a delicious roast chicken, but now you have heaps of leftovers and want to turn them into a quick and easy midweek meal?