Recipe: Appetizing Ham pesto pasta
Ham pesto pasta. Which kind of pesto would you like in the recipe? Basil Pesto Pesto Sauce Sundried Tomato Pesto Any Type of Pesto. Stir in the ham, pesto and crème fraîche until well mixed, then enjoy.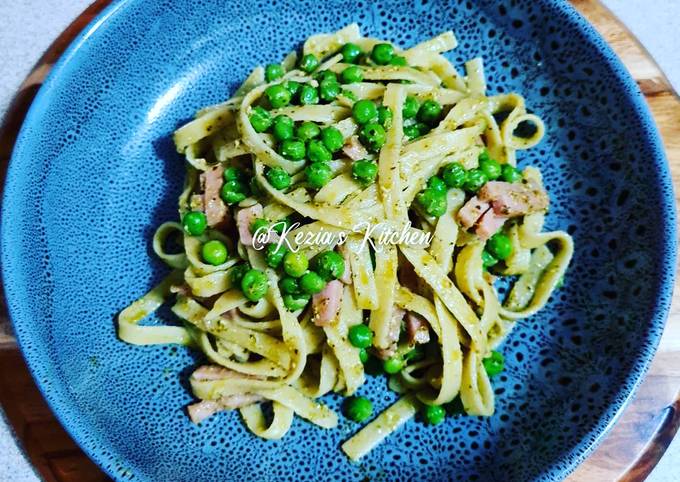 Return pasta and vegetables to cooking pot. Fresh tagliatelle pasta is tossed with pesto and served with crispy slices of Parma ham, cherry tomatoes and spinach. Great recipe for Ham pesto pasta. You can cook Ham pesto pasta using 5 ingredients and 5 steps. Here is how you achieve it.
Ingredients of Ham pesto pasta
It's 85 grams of long pasta such as fettuccine/80 linguine/ tagliatel.
You need 80 grams of frozen peas.
Prepare 50-85 g of ham slices, chopped.
Prepare 2 tablespoons of pesto.
You need 2 tablespoons of cooking creme.
My daughter favourite food is PASTA PASTA AND PASTA, I will cook more then can have leafover so she can have some for school lunch. Cook the spaghetti as per pack instructions. Meanwhile, pan fry the ham cubes in the oil. When the pasta is cooked, drain with the peas.
Ham pesto pasta instructions
Boil about 2 liters of water, give 1 tablespoon of salt, then add the paste.  Boil for 7 minutes, add the peas and then continue to simmer until the paste becomes al dente..
After the pasta is cooked and drained, put it in the pasta bowl (or put it back in the pan).  Add ham, pesto, and crème until combined..
Ham pesto pasta is ready to be served and enjoyed with your beloved family.
Note: if you don't have pesto you can make it yourself, especially now that you can find a lot of fresh basil in traditional indomesian markets, the method is more or less as below:.
Ingredients: cloves of garlic 50 g pinenut / walnuts / cashews, roasted 50 g powdered / grated parmesan cheese 100 ml olive oil 1/2 teaspoon ground pepper 1/2 teaspoon salt How to make : Place all ingredients, except olive oil in a food processor.  Process until roughly chopped. Add olive oil, process again until smooth or soft..
Put the dry pan back on the heat with the cream, ham and Parmesan and warm it through. Add the pasta and peas back to the pan, tossing everything together well. Bring a large pan of water to the boil and cook the pasta as instructed on the pack. Add the wine to the pan and bubble for a minute, then stir in the cream and bring just to the boil. Cook the pasta in a pan of boiling salted water according to the packet instructions.